The irresistable power of emotional content (and 7 ways to emo your audience)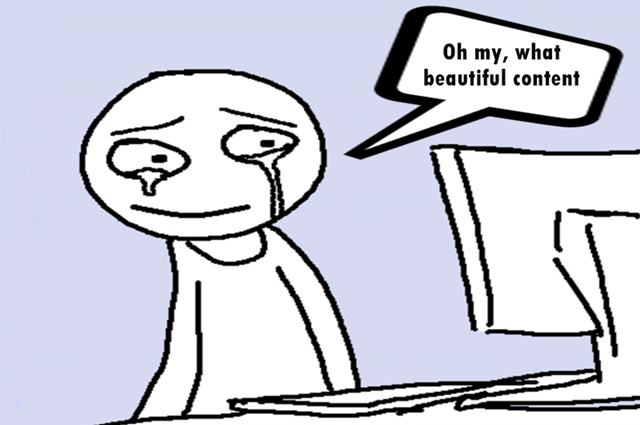 What are you up to today?
Whether you're working, roaming or relaxing, I know what your eyes and ears will be doing – getting slugged with hundreds of marketing messages.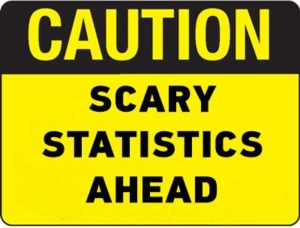 Microsoft estimate that Australians encounter up to 600 of these attention seekers every day – including ads, printed material, web content, logos, products on shelves and dozens of marketing tactic sub-species.
In the US, marketing firm Yankelovich believe Americans get bombarded with around 5000 marketing messages between wakey-wakey and nighty night.
Have a nice day.
Even if the actual numbers are 50% lower – that's a lot of daily brand-nagging
Either way, you're thinking, "Some of those harassed eyeballs and eardrums belong to my target audience!"
So, how do you cut through the noise to win their attention, interest and business?
You hit them where it hurts and heals – with emotional content.
If you've got a minute, I'll let Bruce explain…(if not, scroll on down)
Between a few affectionate head slaps, Bruce revealed to his student how emotional content creates awareness, openness and receptivity.
"Don't think, FEEEEEL."
It's a wonderful mantra, whether you're looking to connect with words or a side-kick to the face.
Because when you start to feel, your audience will too.
Why emotional content? Because humans sense first and think second
Back in the days when elephants wore wool cardigans and feral cats had saber teeth, our reptilian brain focused on keeping the tribe safe, finding food, protecting territory and bonking madly.
You know, staying alive stuff, not first-world problems.
Today, our reptilian survival instincts still play a big part in decision-making. Especially regarding things that move us from pain to pleasure.
But over millions of years, the human brain did a bit of home renovating and added a couple of new rooms:
First, the limbic system (emotional brain).
Then the neocortex (rational, cognitive or logical brain).
The emotional brain can process sensory (gut feeling) information much faster than the logical brain can ponder it. And with less effort.
As a result, we prefer not to think deeply about most of the decisions we make, or actions we take.
So, when the reptilian and emotional brains agree on something, it takes a pain in the brain for logic to change their minds.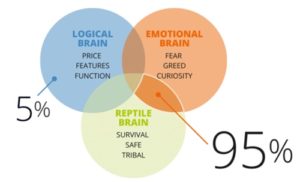 How does this impact you as a content writer?
If you want to capture people's attention quickly, and then hold it, chat up those green and orange noggin circles first.
There are a couple of other compelling reasons to get in touch with your reader's feelings.
Emotions motivate people to act
When we feel emotional, it means chemicals are being released into our brain. For example:
dopamine (you feel happy)
cortisole (you feel stressed)
oxytocin (you feel empathetic or in love).
These sensations create a desire to act in certain ways, such as:
Happiness – we want to share.
Sadness – we want to connect and understand.
Anger – we become stubborn.
Fear – we want to cling onto something so we don't lose it.
Emotional messages are more memorable
When you think of hugely successful marketing campaigns and brands, what names come to mind?
The ones that people tend to love most, and remember longest, create emotional connections with their audiences.
For example:
Apple – be part of something revolutionary and bigger than ourselves.
Nike 'Just Do It' – with enough passion, anyone can achieve greatness.
Dove 'Real Beauty' – all girls and women are beautiful and should feel confident about themselves.
Lego – express your imagination and feel proud of what you create.
Tourism Australia – experience the most desirable and memorable destination on earth.
(Insert any small or large business you know and love)
And then there's Superbowl advertising
At last year's game, 86 ads were shown during 50 minutes of half and quarter time breaks. That's some heavy duty brand-nagging crammed into the time it takes to suck on a few oranges.
Advertisers paid $5 million per 30 seconds to get their message out to 110 million people. Plus production costs.
For that sort of money, you can't afford to be forgotten, or ignored.
How do successful Superbowl ads capture attention, hold interest and get raved about once the final whistle blows?
They ditch the detail and go full emo.
Here are a couple of examples:
Doritos – a brand that wants to be all about fun times
This 2018 Fire and Ice extravaganza featured humour, special effects, music with an irresistible beat, and two of the world's most likeable stars.
Budweiser didn't play fair with 'Puppy Love'
In 2014, they made a cute dog the star of a story about best buds – and never once mentioned beer. Damn you Budweiser, now I've got something in my eye.
Of course, imagining the budgets for all the campaigns and brands mentioned is enough to make you laugh and cry at the same time.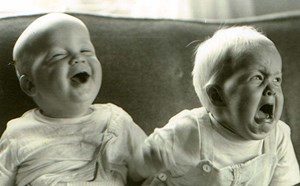 But I'm not going to pass you a tissue.
Instead, enjoy a shot of dopamine to your limbic system knowing that you don't need big money, bells n' whistles or star power to tug at your customer's heartstrings.
Emotional copywriting techniques: 7 ways to add the feels to your content
Address your audience's pain
People love to have a good moan about their problems.  There's only one thing better – when someone else asks you what's wrong before you've said a word.
If you want to connect quickly with your audience, don't tiptoe around their issue. Blurt it out.
For example, you could start a teeth whitening dental service or product sales page, blog, social post or email with:
Feeling insecure about your stained teeth? Worried it's having an impact on your social life?
But remember this. If you're going to ask a closed question (where the answer can only be yes or no), you have to be 100% certain what the big problem is.
Get it wrong and the uncomfortable silence will be deafening. And no-one needs a cricket-chirping soundtrack playing behind their content.
So, have a chat with your customers and find out why they came to you. It might take some digging to get to the good stuff, but it's worth the effort.
Write down the emotive terms they use and include them your copy.
Listen out for, and use, words like:
angry
anxious
bored
confused
frustrated
lonely
miserable
overwhelmed
pain
petrified
sad
shocked
shame
sick to death
stressed
struggling
tired
worried.
Here's a good example on the Flying Solo website. The article introduction addresses the audience problem and promises a solution.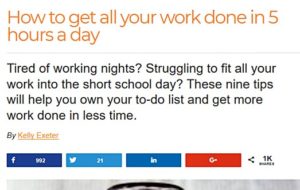 Venture capital providers, First Round, do something similar in their web copy.
Rather than opening with an overused line like 'Starting a new company is exciting…', they address the feeling that many new entrepreneurs experience at this point (even if they won't say it out loud)  – trying to do everything myself gets lonely.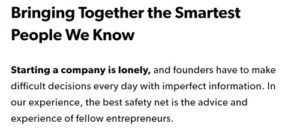 If you're not comfortable playing Debbie Downer, you can use idioms to lighten the mood while addressing problems e.g. hair on fire, buried under emails, drowning in paperwork. Like Basecamp do…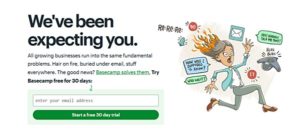 As these examples illustrate, you can't just bring up an audience problem and then leave them in the lurch, quivery-lipped and despondent.
Once you've shone the spotlight on the elephant in the room, you need to lift your reader back up with the promise of good times ahead – if they stick with you.
Help them see the benefits
There's a saying in the marketing and copywriting world – sell with benefits and support with features.
Why? Because, as we know, people get a feeling about a product, service or business before they consider it rationally.
You need to satisfy both parts of the brain. Yes, tell people what you do or offer (the features). But paint a real-life picture of how you make their lives better too (the benefit).
For a home groceries service, it might be:
Feature – home delivery at no extra cost.
Benefit – Don't waste precious time and energy shopping for groceries in the busy aisles. We'll deliver them fresh to your door for free.
Emotional connection – more relaxed, less stressed, happier.
For a home gym, it might be:
Feature – 30 high-impact workouts at home.
Benefit – Get ripped in 90 days without the judging once-overs from an intimidating gym crowd.
Emotional connection – excited, more confident, less inhibited.
Science would agree.
Several fMRI studies have shown that when people read about a vividly described experience, their brain lights up in the same way it would if it was really happening to them.
Use images of people they can relate to
Complementing your words with photos can add weight to the problems and benefits techniques we've looked at.
To create an emotional connection, use images that speak the thousand words about how your audience feel – before or/and after you've provided the solution. For example:
A physiotherapist or chiropractor
Someone wincing with backpain.
A relieved patient smiling as they receive your care.
A mortgage broker or real estate agent
A stressed family in a small, messy apartment.
A happy family outside their new home.
A family attraction or experience
A sad child playing alone.
A laughing parent and child bonding over your attraction.
An SME technology company
A frazzled business owner under a pile of paperwork.
A confident looking business owner using your technology.
Steer clear of images that are all eye-candy, but make no sense. Especially if you're writing sales copy.
When you're selling, you need to draw people in quickly on an emotional level. If they keep glancing at your image and wondering, "WTF is that all about?" you'll lose them.
On a side note, if you feel like this guy, content writing is probably not your biggest problem right now.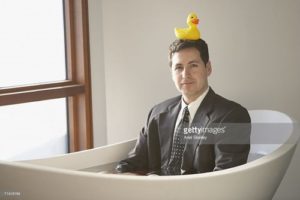 Getty Images
On the other hand, if this makes sense to you, I'll have what you're having.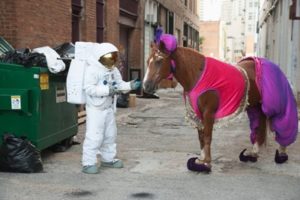 What about if you're not using images in your content? Then you can use a couple of magical words to take potential customers on a visual journey.
Invite them to 'Imagine…'  or  'Picture yourself…'
It's easy if you're selling travel, houses or any other pleasurable experience. But it can be just as potent if you want to build audience empathy and compassion.
Like Fred Hollows Foundation do so well on this page.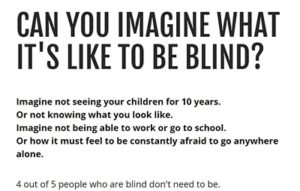 Tell a compelling story
Stories are emotional benefits on steroids. Told well, they can bulk-up audience empathy more effectively than any other content contraband.
Powerful business stories are easy to picture, easy to remember and easy to understand. They'll strip away all the jargon from a complex topic and hand it to your reader in a simple takeaway.
Depending on whether the story is happy (Nike, Lego, Dove) or sad (often charities and other not-for-profits take this approach to show the  importance of their cause) different emotional brain chemicals run rampant when we hear them.
The most powerful and emotive stories include:
characters that your audience empathise with
challenges your audience can relate to and find believable.
The hero of your business story could be:
you, a staff member or your business
a customer or anyone you help
your product or service.
Stories work in all kinds of content – blogs, videos, website copy, social posts, emails, testimonials, case studies and many other formats.
This video story from MSF (Doctors Without Borders) is one of my favourites
It's eye-catching, suspenseful and even manages to provide a moment of humour in a harrowing situation.
Most importantly, the message is crystal clear and unforgettable.
Give them something to smile about
Humour can be risky, because it's highly subjective.
But most people like to be entertained, chortle out loud or allow themselves a wry smile.
You know, feel good about life.
Humour is also potent emotional content because it:
catches your audience off guard (grabs attention)
brings people together
creates a positive connection to your business
is memorable
encourages people to share whatever is tickling their fancy.
A few years ago, BuzzSumo analysed the top 10,000 most shared articles online to find out which emotions were most likely to encourage people to spread the word.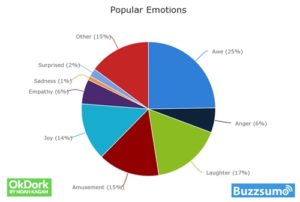 The three emotions linked to the most-shared articles were:
Awe – 25 %
Laughter – 17%
Amusement – 15%

Why do people like to pass on funny stuff?
Because we're 30 times more likely to laugh if we're with another person. Sending someone a good reason to LOL while we're LOTI (laughing on the inside) is the next best thing to being there.
We also like making other people happy. It feels nice to brighten someone's day and, it reflects positively on us.
In the same way, humorous business content makes your audience feel that your organisation is fun to be around. And it can work even when the subject isn't something to laugh about.
Dollar Shave Club
Shaving is boring, but this video isn't. That's why it's had 26,000,000 views, 130,000 thumbs up and 9,000 comments on YouTube.
Water Safety New Zealand
A third of preventable drowning deaths in New Zealand happen to males between the ages of 15-34. But how do you connect with an audience who enjoy taking risks and don't like to be told what to do?
You introduce them to The Swim Reaper…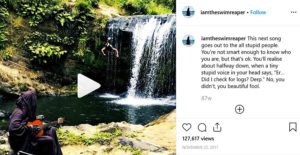 Did dark humour get this serious message across effectively? Well, there were zero drowning deaths during the peak swimming season that the campaign ran.
But before you go down the funny path, always consider your audience and the channels you'll be using.
For example, on B2B article websites, more traditional educational content and political news pieces often get the highest engagement and shares.
Saying that, a large percentage of shared news articles are about Donald Trump. Proof that jokes can work in any type of content.
Provide social proof
Ringing endorsements from past customers will always be more convincing than any copy you can conjure up yourself.
That's why the online world is a rising sea of customer testimonials, star ratings, reviews, case-studies, likes, hearts, social shares, photos of bustling events and selfies of attractive people holding products they've never used.
For businesses and government, social proof says, "Trust us, other people like you already do."
For wary prospects it means, "Phew, I'm not the first one to try this. People like me confirm it works."
Social proof is emotional content from the mouths and minds of your audience. It makes people feel relieved, maybe even excited, about their decision to do business with you.
If you're able to capture that delight in text, a photo or a video, the emotional impact is even greater.
For example:
This Squarespace testimonial on the Zendesk website customer stories section would excite managers in similar businesses about what Zendesk can do for them.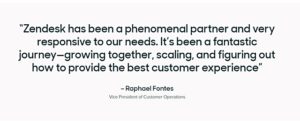 Including a real photo with a testimonial gives it more credibility. The testimonial below is from my Digital Copywriting Training page.
I use it because Amber talks about two things that web writing training clients always want (customised workshop content and practical skills their teams can apply immediately). Better yet, she sounded pretty excited about it!
Video can take testimonials up another level again. You can feel how impressed these restaurant owners are with Swipely (now Upserve).
Set the mood with colour
Shhh…
Sometimes you don't need to say a word to evoke an emotional response in your audience. Your colour choice can do it for you.
Marketers and graphic designers know the power of pigment when developing brands and marketing material.
Just look at this colour emotion guide from Coschedule. You can see why so many well known businesses chose their logo colour.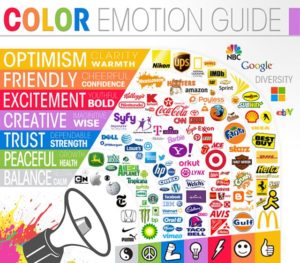 Remember, this is just a guide. Like humour, colour preference is personal. No single colour moves everyone in the same way.
One thing is certain, though. Colour does influence our opinion and prompt us to act.
So, explore and test different ones in your content and design elements to help sprinkle emotion over your audience's decision-making.
In a nutshell, emotional content is good for business
At a time when everyone is screaming for attention, emotional content can help you stand out from the raucous pack and keep people glued to your messages.
So, don't be afraid to show your audience that you understand the problems, urges and emotions that brought them to you.
Because if your audience feel something when they're connecting with your content, they'll want to do business with you – and tell other people that they should too.
Need professional content writing, advice or training?